Beijing time, on June 7, 2018, the international official website of Ruizhun Precision Metal Co., Ltd (RZ) . was officially launched to meet the needs of the world Die Casting industry, the mold industry, and the injection industry.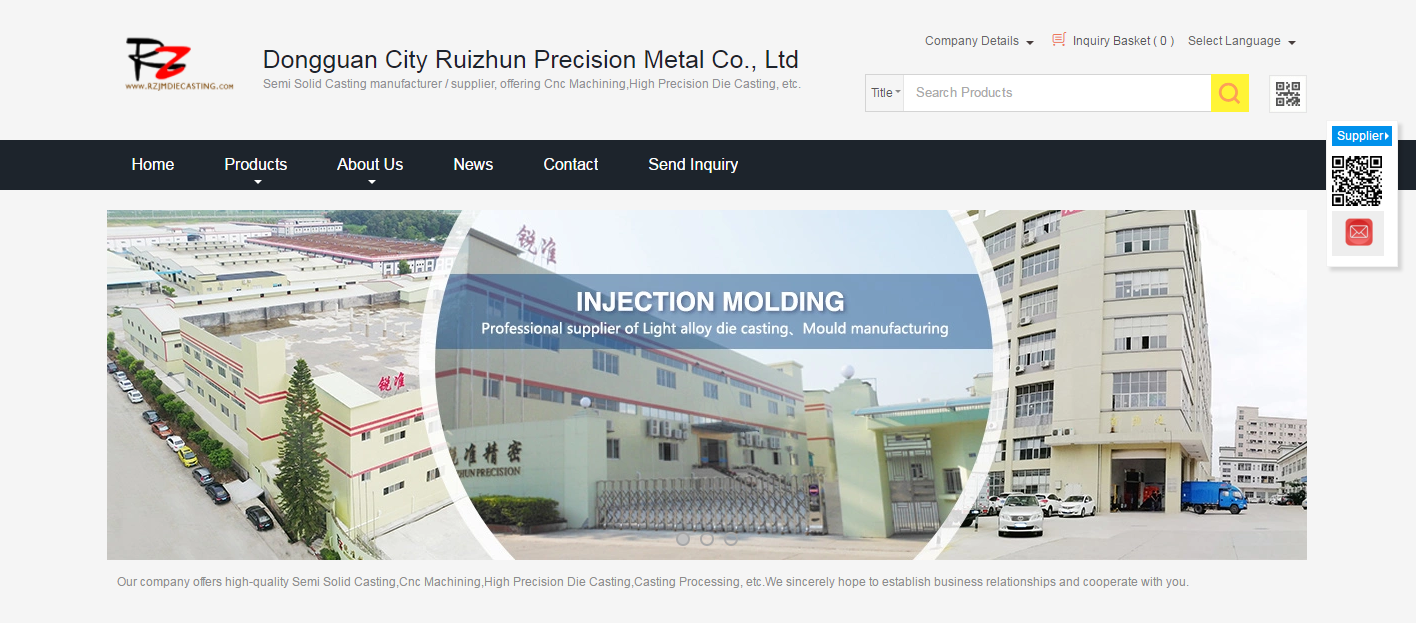 Ruizhun Precision Metal Co., Ltd (RZ) is China's national high-tech enterprises and key enterprises in Guangdong, with registered capital 120 million, have been developed into Chinese high-tech enterprises and have applied for 18 patent technologies and have the right to import and export, specializes in Semisolid Die Casting, traditional die casting, Mold Manufacturing, Injection molding and other processing services. It produces light, high quality, high efficiency, energy saving, environmental protection die casting and injection products.
The company has two subsidiary companies: a factory is an RZ Own factory area, specializing in the production of semi-solid die casting products; B factory is Bai run mould Co., Ltd., engaged in injection production, MOLD Manufacturing.
The A factory is located in Qiaotou town, Dongguan. Ruizhun Precision Metal Co., Ltd.covers an area of 70000 square meters. It has 800 production workers and 150 managers, and imports 101 semi-solid die casting magnesium alloy casting machines. High Precision Injection Molding machine 90, is China's largest semisolid die casting magnesium alloy enterprises, and provide efficient and advanced die casting processing service of magnesium alloy.
B factory is located in the town of Fenggang, Dongguan. Best Mold Co., Ltd. (GR)covers an area of 10000 square meters. Has 30 Injection Molding Plastic Injection Plastic Molding machines, 10 Mold manufacturing working group, 15 years experience in injection molding. It is focused on Plastic Molding and mold manufacturing.
Ruizhun Precision Metal Co., Ltd. focuses on technology research and development and has a strong R & D team. It has applied for 18 advanced technology patents, turning customers' ideas into products. At the same time, through the BSI certified ISO9001:2008, ISO14001:2004, TS16949 quality management system, the company has a mature product testing laboratory, which can test the quality and details of the die-casting and injection products to ensure the quality of the products according to the needs of the customers. UCT quality.
Ruizhun Precision Metal Co., Ltd has many years of casting experience, mold manufacturing, and injection molding, each process has a special person to follow up, and can communicate with customers at any time about the product. Our company has about 100 people in the design and development team to design the mold, two factories have twenty mold manufacturing groups, manufacturing molds, two large factories specializing in the production of injection products, and international inspection standards PROD professional laboratory. The finished product is confirmed with the customer, the eight processes are completed in the factory area after the customer confirms the sample, the batch production, and export to the customer company.